Disney Pixar's Onward
Thinking about seeing Disney's new Pixar Onward film? I was shockingly surprised how much I loved it. However, I do think it is a good idea to go into any film without expectations. I have a dear friend who I see eye to eye with on most things and she says she wasn't really a fan. Me? I cried. So what made me love it so much?
Onward is the brotherly love film we have been waiting for since Anna and Elsa's sisterly love on Frozen.
We have been forever blessed by the familial relationships represented in movies that go beyond romance. For example, we learn of Coco's exploration of ancestor in an unforgettable parent/child relationship. We've fallen in love with best friends like Buzz Lightyear and Woody with their epic loyalty and trust. and now, we finally Onward that brings in a brotherly connection like we've never seen on the big screen represented in Pixar film.
This movie is set in a world where magic once existed and because of modern technology and convenience has been lost. Two teenage elf brothers, Ian and Barley Lightfood receive a wizards staff as a gift left behind from their deceased father. This staff comes with the magic of bringing their father back for one whole day!
Because of magic mishap the brothers are racing against the clock to have the chance to talk to their father before the sun sets.
As I was watching this film I couldn't help but think of my sons. I am a mother of three boys and I think too often our sons have a lack of what a healthy brother relationship looks like for brothers on screen. As Ian and Barley support and love each other through the film my heart swelled. I couldn't wait for my boys to see this.
In a world full of trash talking and "be a man" mentality it was so refreshing to see tenderness and love among male characters. It was so nice to see that Onward supports the development of finding who you are with the help of your family.
Is Onward scary?
No. There are some suspenseful moments of racing against the clock, running away from others trying to stop them from meeting their goal, and a few scenes of magical transformations. Nothing I would consider as scary.
How Long is Onward?
Onward is 1 hr 42 minutes.
Will Onward be good?
I wouldn't say this is Pixar's best. However, this film dives into the connection and importance of family relationships in a very real way and I loved it. Onward has taken real conversations and situations and put them into a fun, adventure film that had me feeling all the feels.
Disney Pixar's Onward Giveaway
Disney Pixar's Onward comes out in theaters March 6th and I've teamed up with some amazing Disney influencers for an exclusive Onward prize pack giveaway— over $100 value, no purchase necessary!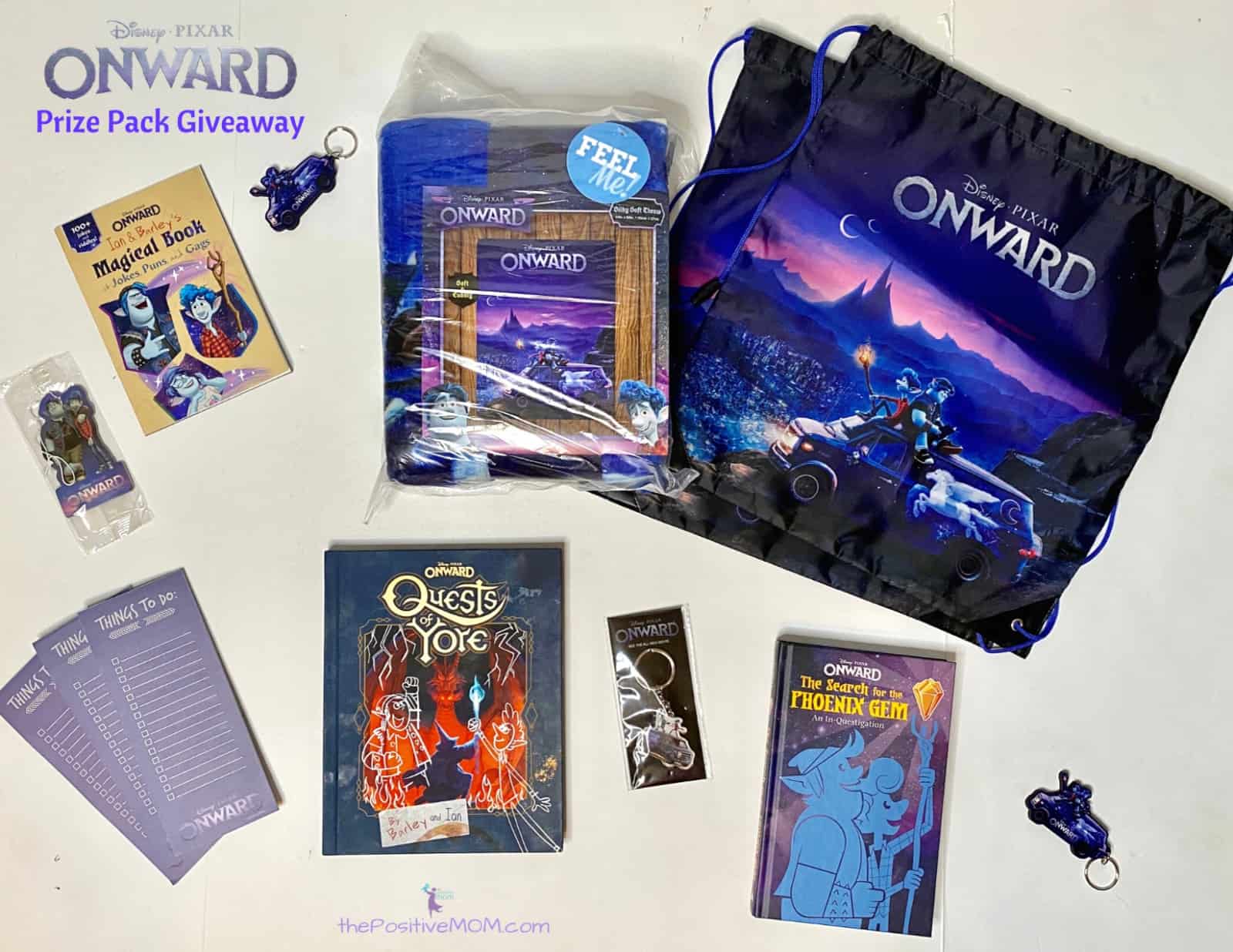 One (1) WINNER will receive all these goodies inspired by this heartwarming Pixar film:
2 movie ticket codes to see Onward in theaters
1 Onward fleece blanket
2 Onward drawstring backpack
3 Onward Guinevere keychains
Disney Pixar Onward Ian & Barley's Magical Book of Jokes, Puns, and Gags
2 Onward car air fresheners
Disney Pixar Onward Quests of Yore
3 Things To Do Onward notepads
Disney Pixar Onward: The Search for the Phoenix Gem: An In-Questigation
2 Onward Sticker Sheets
1 Onward t-shirt (size of your choice)
Which of these Onward gifts are your favorite? We are loving all the merchandise!
This giveaway is hosted by: The Positive MOM and

Disney Mom Guide

Co-Hosts: WhollyART, Pretty in Baby Food, An Open Suitcase, Ask Mama MOE, Two Married Geeks, My Mommy Style, Cleverly Changing and Classy Mommy.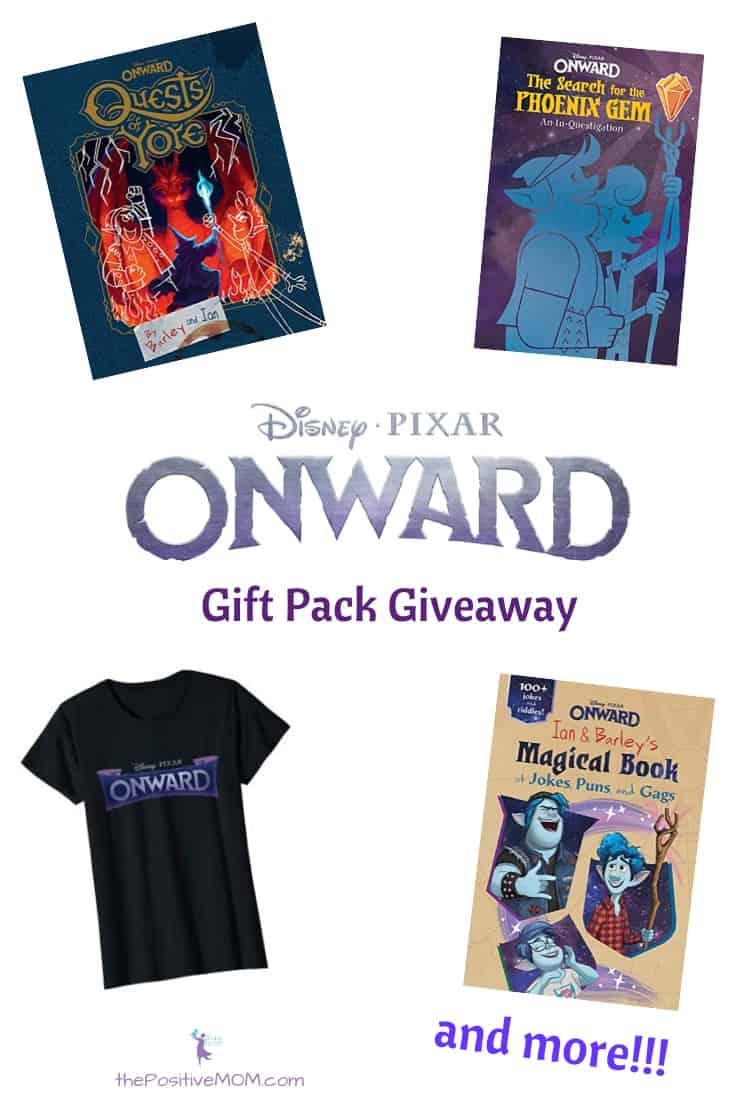 Set in a suburban fantasy world, Disney and Pixar's "Onward" introduces two teenage elf brothers (voices of Chris Pratt as Barley and Tom Holland as Ian) who embark on an extraordinary quest to discover if there is still a little magic left out there.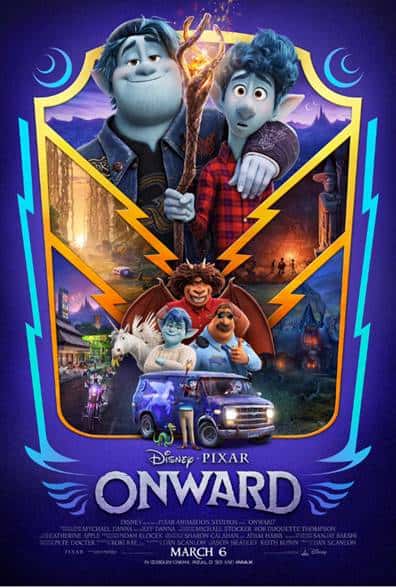 Mel Rodriguez voices Officer Colt Bronco; Lena Waithe lends her voice to Officer Specter; and Ali Wong is the voice of Officer Gore.
Also featuring the voices of Julia Louis-Dreyfus and Octavia Spencer!
From Director Dan Scanlon and Producer Kori Rae, the U.S. Theatrical Release of Onward in the U.S. is March 6, 2020.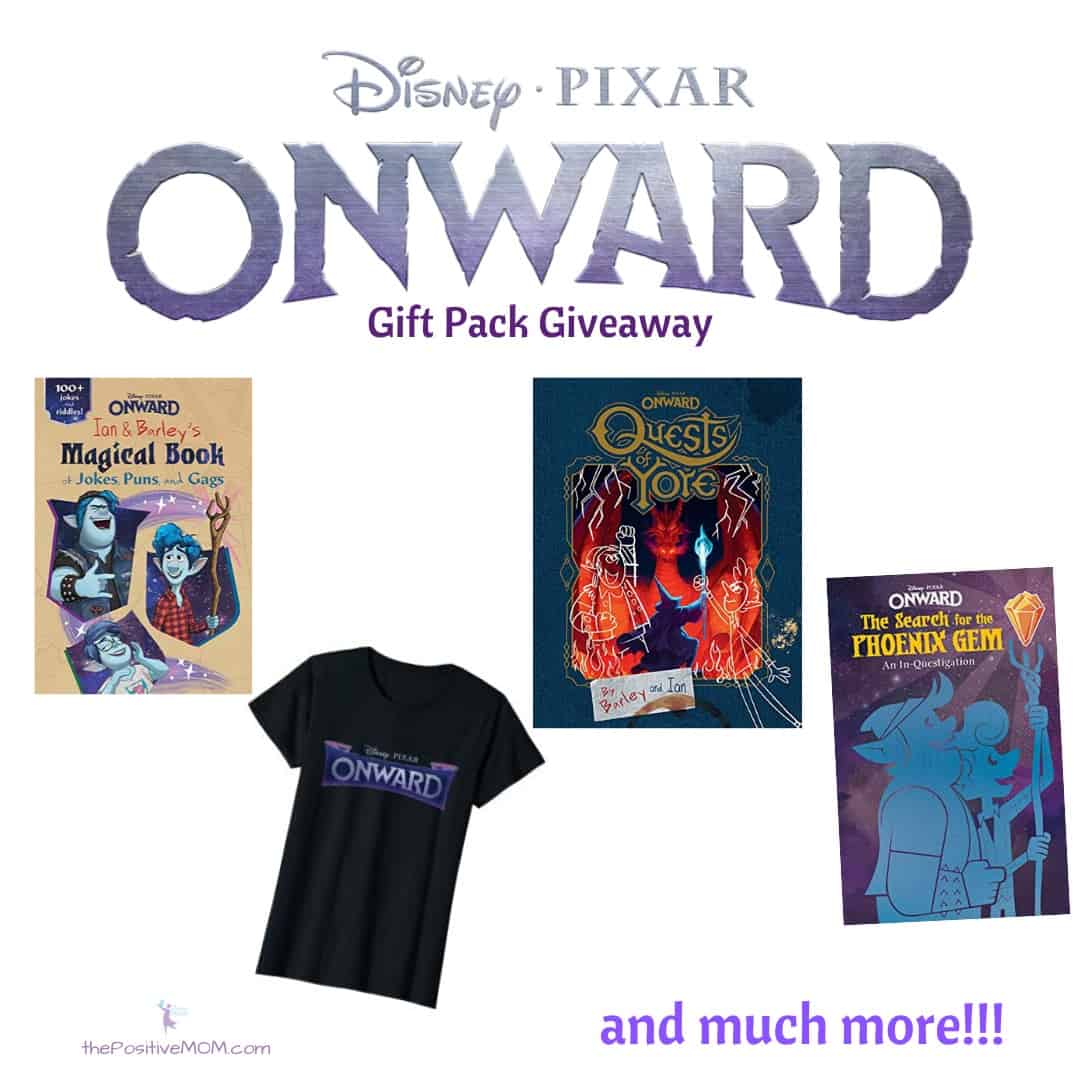 ENTER NOW for your chance to win this unique ONWARD prize pack giveaway! You can also join our #WDWwednesday Twitter Party and Facebook LIVE chat to win 2 additional tickets to see ONWARD in theaters.
This giveaway runs til March 13, 2020.
a Rafflecopter giveaway
Winner must be over 18 and provide a valid mailing address within the U.S.A.
Hello! I am Camille, a wife, mother of four, Disney obsessed, certified teacher, and believer in creating your best momlife the way you see fit. Motherhood comes with its ups and downs, my hope is you'll find something here to make your life a little better/easier. Let's be friends on social!