This is a sponsored post written by me on behalf of Blue Bunny Ice Cream. All opinions are 100% mine.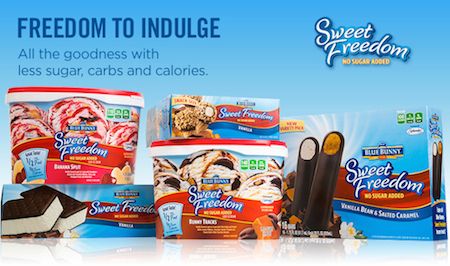 National Diabetes Month is upon us and I am thrilled to share with you an ice cream line made by Blue Bunny® Blue Bunny that is designed specifically for diabetic or those looking for a healthier option in the ice cream department. As I have family members who are diabetic I love that Blue Bunny is making an effort to create options for us.
My brother who is diabetic recently ran a marathon and will be sharing with us how he prepared for this amazing feat and keeping his diet clean was a big part of his ability to train his body to be prepared for the run. I will never forget how amazing it was to watch him cross the finish line and achieve a goal that he has been working towards for years. A healthy diet has made a big difference to him and he has been really disciplined with sticking to healthy options. So when we did get together for a party I loved having this option available so I could support the healthy decisions he is making and it makes me want to do better too! I look forward to Dave sharing with us his journey of reaching this goal as he has mentioned to me reaching the goal of running a marathon was so much more than the physical accomplishment; so much of the journey was emotional and strength of mind. I am so proud of him!
The great news is that the ice cream tastes so similar to the regular flavors that you hardly notice the difference and you feel even better making the choice of eating it. We had a party with our COMV film crew and they couldn't decide which flavor they liked best the Banana Split or Bunny Tracks. They were both extremely good!
We even set up a line up to see what the overall response was to the flavors and if there was an overall favorite but they really couldn't decide!
I personally liked the bunny tracks as anything that has chocolate and peanut butter is good in my book!
Blue Bunny has a special page you can find on Pinterest and make sure to follow them on Facebook!
I can tell you that my daughter certainly didn't know a difference. It was ice cream and she was happy with that! And yes, she is still in her pjs.
Support Blue Bunny in their efforts to make a healthier America and throw an ice cream party! 😉
Hello! I am Camille, a wife, mother of four, Disney obsessed, certified teacher, and believer in creating your best momlife the way you see fit. Motherhood comes with its ups and downs, my hope is you'll find something here to make your life a little better/easier. Let's be friends on social!