With Summer right around the corner we couldn't be happier to have a little help from our friend Jared from Tone and Tighten give us some tips on how to get our Abs in shape! I know after having three kids it can be hard to get those muscles back where they should be! Jared has so many amazing ideas to shape up in health and fitness and we are thrilled to have him guest post today!
Hey everyone!

My name is Jared and I am the man behind the website Tone-and-Tighten.com. I am a physical therapist by day, blogger by night. I started my website because of my wife- after having our 3rd child, she asked me to put together a workout plan to help her get back into shape. With my profession as a physical therapist, I prescribe workout plans to patients all the time, so I wrote one up for her. Her friends started to ask for workout plans for themselves and my wife encouraged me to start a blog as a place to put all these workouts so that people who wanted to lose weight or get fit at home could use them. Two years later (and hundreds of workout plans later!), the blog has helped many people get back in shape with easy recipes and workouts they can do at home.
I have recently released two 8-week workout plans that guide you through the exact workouts you need to do each day to reach your health and fitness goals. Every day is a new workout and there is a plan for both beginners and the more experienced. You can check out those workout plans here (they are each $7.99, which makes them only $1/week!).
Today I wanted to share with you the Ultimate Ab Burner Workout. Many moms struggle with getting their stomachs to go back to what they were before having a baby, so this is a workout designed to do just that.
The Ultimate Ab Burner Workout from Tone-and-Tighten.com
The format of this workout is 30 seconds on, 10 seconds off. Grab a timer and let's get to work!
Beginners: complete entire circuit one time through
Intermediate: complete entire circuit two times through
Advanced: complete entire circuit three times through
The great thing about this workout is that any level can do it – if you are more advanced, push yourself harder and try to get more reps in during that 30 second time frame. If you are a beginner and need to take a rest, try to keep that rest only 3-5 seconds long and then jump right back in to finish!
Here is the workout: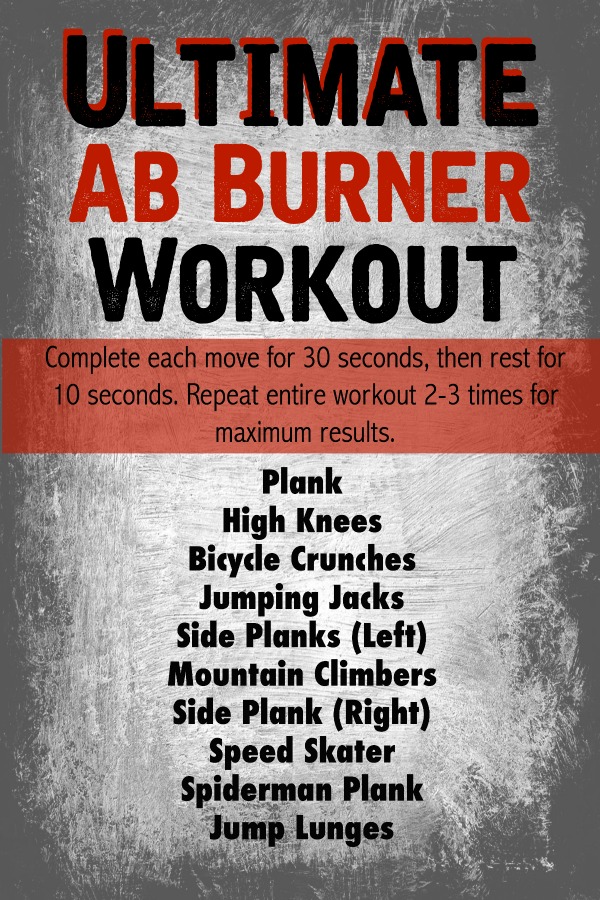 Here you can find quick instructional videos that teach you how to do each move:
30 second plank

30 seconds high knees

30 seconds bicycle crunches

30 seconds jumping jacks

30 seconds side plank (left side)

30 seconds mountain climbers

30 seconds side plank (right side)
30 seconds speed skater

30 seconds Spiderman plank

30 seconds alternating jump lunges

Even though this is an ab workout, I have incorporated explosive cardio to help get your heart rate up and blast those calories, which is also an important part of strengthening your abs.
For more great workouts, be sure to check out my website Tone-and-Tighten.com or any of my 8 Week Workout Plans.
Have a great workout!
Thanks Jared! So, what I want to know is who would do the 8 week challenge with me? If we started now would you commit to doing it? Let me know!
Don't forget to like us on Facebook, follow our YouTube Channel, and watch our day to day happenings on Pinterest and Instagram!

Posts may contain affiliate links. If you purchase a product through an affiliate link your cost will be the same, but My Mommy Style will receive a small commission. Your support is greatly appreciated!
Hello! I am Camille, a wife, mother of four, Disney obsessed, certified teacher, and believer in creating your best momlife the way you see fit. Motherhood comes with its ups and downs, my hope is you'll find something here to make your life a little better/easier. Let's be friends on social!