Since you can't live at a Disney park, here are twenty of the BEST Disney foods you can make at home. Indulge in all of your Disney cravings.
The Best Disney Foods You Can Make at Home
From the infamous Dole Whips to Mickey waffles, it's no secret that Disney foods have a bit of a cult following. I'm a bit Disney obsessed myself and I have been so very lucky to taste many of the Disney foods in the parks. Thankfully, you don't have to visit a Disney park in order to indulge in a little Disney magic at home!
Whether you are planning a Disney party or just missing your favorite Disney eats, I've got you covered! All of these Disney-inspired recipes are so delicious and they make the perfect go to when you need a little Disney in your kitchen.
Disneyland is now open! Be sure to check out all of my Disney posts to prepare your next exciting vacation or Disney cruise. Disney goes over the top for everything they do and they pay attention to all of the details. It is the most magical place and I just can't seem to get enough.
Best Disney Foods
Here are the twenty best Disney foods you can make right at home! These are so tasty and it will help for those days when you can't go to a Disney park!
1. Edible Chip Teacup Beauty Beast
Edible Chip Teacup would make a perfect party treat from intheidskitchen.
2. Hollywood Brown Derby Grapefruit Cake
The Hollywood Brown Derby Grapefruit Cake  is the perfect combo of tart and sweet from mission-food.
3. Star Wars Bantha Milk Cocktail
Bantha Milk Cocktail Inspired By Star Wars Galaxy's Edge Blue Milk would make a fun star wars party drink or a baby shower drink from ottawamommyclub.
4. Le Colliers Mushroom Filet Disney Foods
Le Cellier Filet Mignon with White Truffle Butter Sauce would be a wonderful meal for a special occasion from mission-food.
5. Wookie Milkshake
Wookie Chocolate Milkshake would also be a fun star wars party treat from juliemeasures.
6. Disneyland Caramel Popcorn
Is it possible to not eat the whole batch of Disneyland Caramel Popcorn in one sitting? This chocolate drizzled popcorn made the best Disney foods list because it is hard to pass up from atozformoms.
7. Disney Churros
With a bit of practice, you can create this Mickey Mouse Disney Churros from theeverydaymouse.
8. Mickey Mouse Gingerbread Cookies
Mickey Mouse Gingerbread Cookies need to be on your next holiday goodie plate from wellifshecandoit.
9. Toy Story Cupcakes
Very little skill is required to recreate these Toy Story Little Green Alien Cupcakes from inthekidskitchen.
10. Mickey Mouse Rice Krispy Treats
This Mickey Mouse Rice Krispie Treats has all of my favorite things from wellifshecandoit.
11. Delicious Dole Whip Recipe
Delicious Dole Whip. is a refreshing drink for the hot days of summer from ottawamommyclub.
12. Easy Monte Cristos Disney Foods
Give me savory and sweet with these Easy Monte Cristos Disney foods from favoritefamilyrecipes.
13. Violet Lemonade
This Violet Lemonade would make the perfect baby shower or bridal shower drink from the everydaymouse.
14. Disney World Cronuts Recipe
Disney World Cronuts Recipe is a whole lot of deliciousness from mommymouseclubhouse.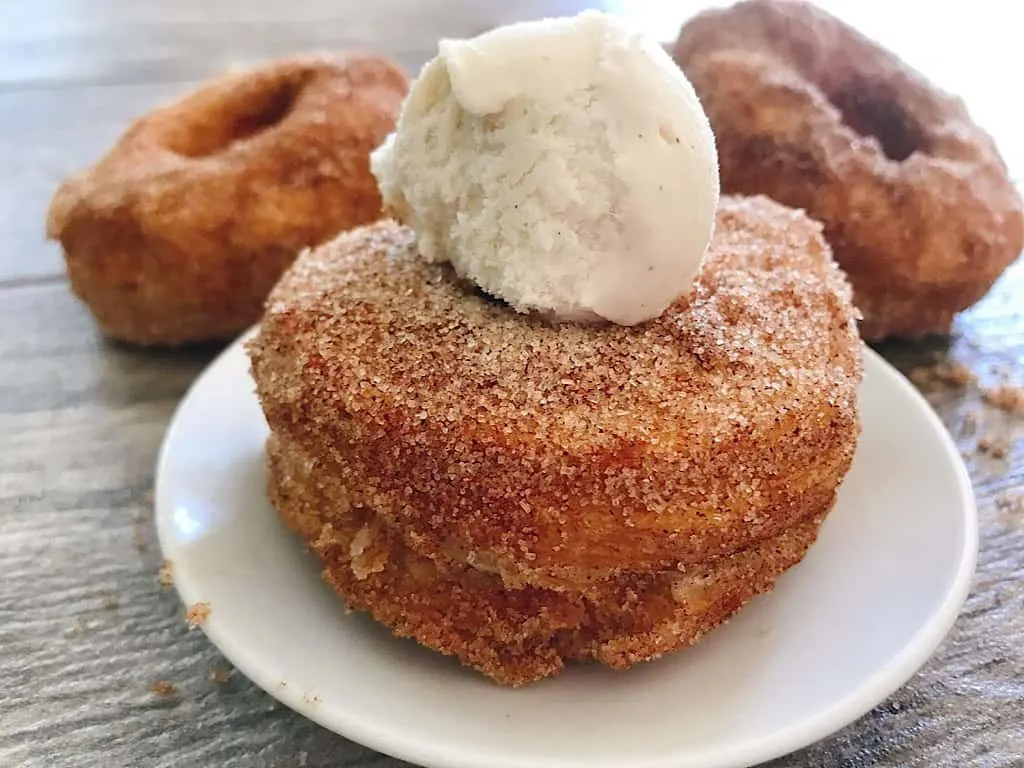 15. Maple Syrup Pancake Milkshake Disney Foods
I was skeptical at first, but this Maple Syrup Pancake Milkshake can easily be a favorite breakfast from juliemeasures.
16. Homemade Raspberry Macarons
Even if you can't make the Mickey mouse shaped macaron, these Homemade Raspberry Macarons are still worth making from seasonalmemories.
17. Cinderella Inspired Enchanted Pumpkin Muffins
Cinderella Inspired Enchanted Pumpkin Muffins are wrapped in orange and detailed with green fondant from intheplayroom.
18. Copycat Disneyland Churro Funnel Cake
Do you share or get your own of these Copycat Disneyland Churro Funnel Cake from artsyfartsymama?
19. Slow Cooker Pot Roast Disney Copycat
This Slow Cooker Pot Roast Disney Copycat makes a hearty meal for a fall or winter day from southernplate.
20. Copycat Disneyland Turkey Legs
Full of flavor and moisture, these Copycat Disneyland Turkey Legs are making my mouth water from sugarspiceandglitter.
*Posts may contain affiliate links. If you purchase a product through an affiliate link your cost will be the same, but My Mommy Style will receive a small commission. Your support is greatly appreciated!
You May Also Like: