Hello friends, I'm embarrassed and yet still excited to share today's post with you!  I'll explain in a bit, but it involves me feeling like a super genius only to later be rightfully deflated. (click here for part II)
I am kicking off our Photography week here at MMS with a fabulous 2 part tutorial on how to shoot in the dreaded midday sunlight and still get the ultra creamy skin tones that take a photo from "ugh" to "WOW"!  Whether you're a mommy taking photos of your little chompies, or trying to improve as a new professional to the field of photography, I have a super inexpensive trick to help you out.
I definitely miss living in Washington (sometimes) and having the perfect lighting for portraits always…even if you did have to wait in between bouts of rain.  I've never had it so easy!
But since most of us don't have that luxury, here are the things you need to know about shooting in the midday sun…
When you have the sun directly overhead you get unflattering shadows under the eyes and nose which are as subtle and beautiful as  curdled cheese!
This portrait was fixed with a reflector, which is pretty cheap and looks like this: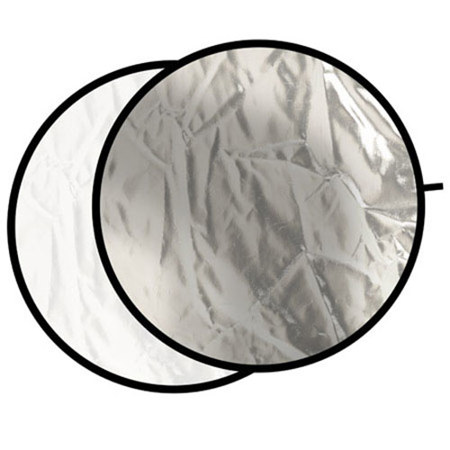 And you can get it for $20 here.
Another quick fix if you don't have a reflector is to turn on your flash to fill in those harsh shadows (if your camera will let you control the intensity of the flash, do so! The closer you are to your subject, the lower the intensity).
So, aside from that quick fix, here are my general rules of thumb for shooting in the bright sun:
Always look for the shade.
The key here is to find a spot that has nice even lighting that isn't in the dark.  Avoid the dappled lighting coming through the trees. EVEN light across the face. I tend to find the shade of a building or a large tree is best.
OR MAKE your own shade!
Here's where my embarrassment, but also excitement comes in; You see, as a photographer, one of these can come in pretty handy:
It is called a sun-swatter.  Really it just diffuses the harsh lighting by letting less light through, but at a price of $443.30, I think NOT!
So I had this AMAZING idea that I would make one via DIY to share with you all.  Aren't I clever and oh so novel?? Nope.  After spending some time at Home Depot with an awesome employee who helped me to design my own sun-swatter ( photography light diffuser ) I got onto the interwebs and found that like a thousand other people already had that idea…and probably did it better than me, but oh well. *deflated
I'll share anyway.  Here's my $28 version of the sun-swatter:
It took me literally less than 3 minutes to set this up and WAAAAY longer to write this post about it!?  Here's how to make it:
Okay, just to recap you'll need:
6 – 3/4in elbow joints
2 –  3/4 in standard T joints
2 – 3/4 in 45degree elbow joints
1 -bag of clamps (I found some at walmart in the kitchen section for $3+)
3 – Straight joints
1 – piece of white material 52in X 76in
        -sheer material (mine in the image is VERY sheer… I would get a little thicker), don't use silk or plastic since it will keep out too much light.
        -I bought a $3.98 window panel
4 – 3/4 in pvc pipes 10ft. long (Home depot will cut them down for you)
        -cut 1 pipe into 2 four ft. length pieces (discard excess)
       -cut 2 pipes into 2 three ft. length pieces and 2 two ft. pieces
       -cut 1 pipe into 1 more two ft. length piece (cut the rest into swords!)
1 – small can of pvc cement
With your pvc cement, glue your standard T joints to the 45 degree elbow joints like you see below:
prepare for super incredible, high tech, expensive graphic to commence….
Then simply clamp your fabric around the edges. Viola!  (I promise, reading all of this just took you way longer than it'll take to put it together!)
This pops up so quickly and then you can take it apart quickly to transport it anywhere you like.
Now, I know I'm doing this backwards, but part two will have the photos of how to use this and what an amazing effect it can have for improving photos taken in the midday sun!  I wanted to do it sooner, but I lost my dang battery charger for my camera and have one getting shipped right now…so later this week I'll post part two with all the juicy details!
{click to go to part II and see how I used this lovely little sun shade!}
Until then…xox