We are so excited to have our friend, Emily from The Benson Street here today to share an awesome craft and activity for your kids. These insect puzzles are SO fun! My kids would go crazy for these and they look so easy to make. We think Emily is one creative and talented lady and we know you will love her blog, so go check it out!
For more insect fun check out our insect activity round up, lady bug activities and insect scavenger hunt.
Hey there, I'm Emily from The Benson Street! I love puzzles for kids. They give them a chance to take a minute and think. I decided to take puzzles up a level by adding pictures of these neat insects on them using popsicle sticks. Help kids complete the puzzle and then teach them about insects. But first let's learn how to make them!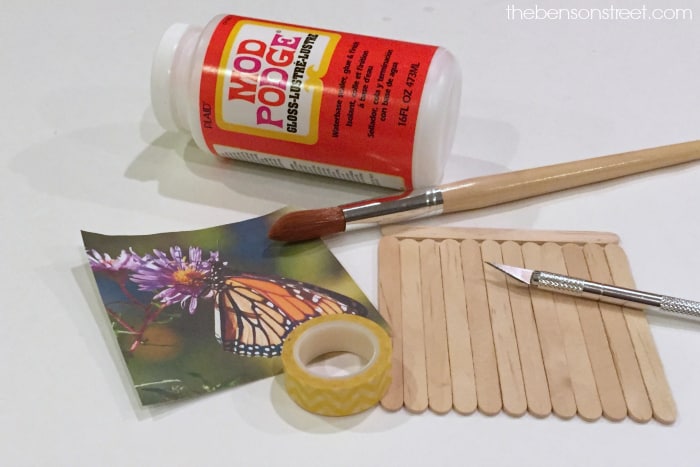 What you will need to make Popsicle Insect Puzzles:
12 popsicle sticks
Insect Photos sized to 4.5 inches by 4.5 inches (here are the ones I used: Insect Puzzles)
Tape
X-acto Knife
Mod Podge
Paint Brush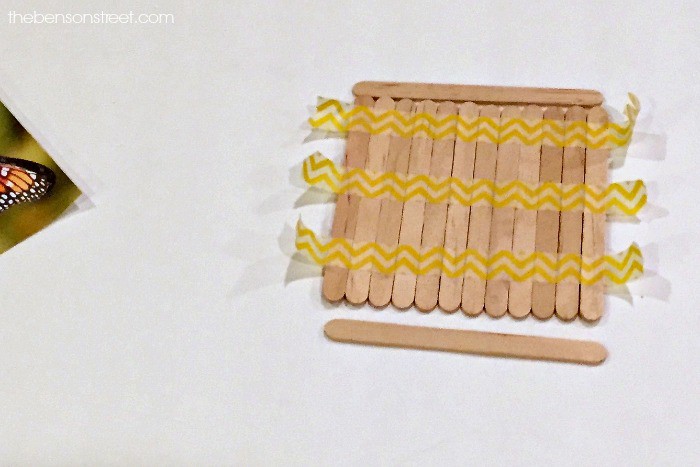 Start by lining up 12 popsicle sticks in a line. I use two other ones to keep them straight. Then tape them together.
Paint Mod Podge on the opposite side of the sticks. Place picture on top of the Mod Podge.
Paint a thin layer of mod podge over the picture. Allow to dry.
Remove the tape and cut between each of the popsicle sticks with the X-acto Knife.
Easy and done! Now is the fun part. Mix up the sticks and then create the puzzles. Talk about different insects, what makes an insect an insect, etc.
It would also be fun to stop by the library and check out some insect books to learn more while working on puzzles or maybe do some Googling.
What insect would you want on your puzzle?
Hey, I'm Emily. I am a wife to an amazing, crazy, and fun husband who keeps me on my toes. I love to craft, celebrate, cook, thrift, read, shop, and decorate. I enjoy working on projects and finding ways to share them. I hope you enjoy my simple ideas and are inspired to create along with me. When I'm not blogging, I'm normally reading a good book or out shopping.
Facebook | Twitter | Instagram | Pinterest