This post brought to you by Snack Pack. The content and opinions expressed below are that of My Mommy Style.
My kids have been loving The Very Hungry Caterpillar lately so I thought it would be fun to pack them their very own caterpillar lunch to take to school. I love packing my kids healthy lunches that are also very easy to make. We are usually in a rush in the morning and I don't spend a ton of time shaping their food into special shapes every day, but the great thing about this caterpillar is that it's basically one more step than making a regular sandwich. Plus it's easy to transform boring brown paper bag lunches with Snack Pack Pudding. They are made with nonfat milk and are fortified with as much calcium as an 8-ounce glass of milk. Snack Pack's variety of flavors also contain no preservatives or high fructose corn syrup. So you can add a fun surprise in your kid's lunchbox without all the guilt.
The beauty of The Very Hungry Caterpillar is there are so many fruits to choose from to add to the lunch box. We added strawberries since the caterpillar ate those on the 4th day (can you tell I've read the book a lot!?) The chocolate flavored Snack Pack pudding adds a little fun to their lunch and is a perfect dip for the strawberries!
Snack Pack recently redesigned their lids to make them easier to open. There have been so many times my kids have brought unopened food in their lunchbox simply because they couldn't open it! There is no worry with the new lid on Snack Pack puddings, they are easy peasy for any age.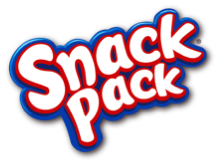 To pack up this lunch I added the caterpillar sandwich in a Tupperware container and added the strawberries and celery to reusable silicone baking cups on the side. Add a lid to the container and add to the lunchbox with the Snack Pack pudding on the side.
My Kindergartener eats lunch at home, but the lunch is perfect packed up for school or served on a plate at home. He couldn't get over how awesome his caterpillar was and dipping the strawberries in the chocolate Snack Pack pudding was such a special treat he talked about it all the way to school!
Click HERE for directions on how to make the caterpillar sandwich.
For more lunch box ideas click on the photos below:
Hello! I am Camille, a wife, mother of four, Disney obsessed, certified teacher, and reality optimist. Motherhood comes with its ups and downs, and I hope while you're here you'll find something that makes your #momlife easier!